Welcome back after what we hope was a relaxing summer holiday for you. It has not been easy launching a new business at the start of a pandemic, we would like to thank both visitors and members for your continued support.
Over the last few months, we have been working hard to improve the functionality and visitor experience of our website. We have made improvements that you will be able to see and others in the background that will enhance your visit and use of our site. Some of the improvements were from you either by directly emailing us or through our Visitors Survey last autumn.
How to videos
We have also created over 20 How to … videos to help you post, edit and manage your job listings. To view the videos visit our support pages. (My Account -> Support).
Employer Updates
The first major update for employers is that from Monday 20th September 2021, all new jobs posted will now be reviewed prior to going live. The review process should not take any longer than 20 – 30 minutes.
What do we do?
We check all URLs (links) are valid and working, we then add SEO to your job listing to help search engines find and display your job listing.
Why are we do this?
Gaining the widest possible audience for your job listing is our priority, so we carry out the following to ensure your job listing is viewed by the largest audience possible.
To ensure there are no broken links and all links go to the correct pages.
We then add some SEO (Search Engine Optimisation) code prior to your job listing going live. As all jobs listings are automatically sent to Google and Bing for inclusion in their job consoles.
To avoid flooding our Twitter account with similar jobs all at once. This will prevent our Twitter account from being restricted.
After you click the "Submit Listing" button you will see the following message and you will receive an email to say we are reviewing your listing this email will include a mobile number for you to text if your job listing has not gone live after 45 minutes. Once your listing has gone live you will receive another email to confirm this.

My Account
When you login to My Account you will now see a more informative user dashboard as you can see from the screen shot below.  You can update any of the information by clicking on the Edit "Establishment profile" link.  View our new "How to…" videos by visiting our support pages. (My Account -> Support), if you require help.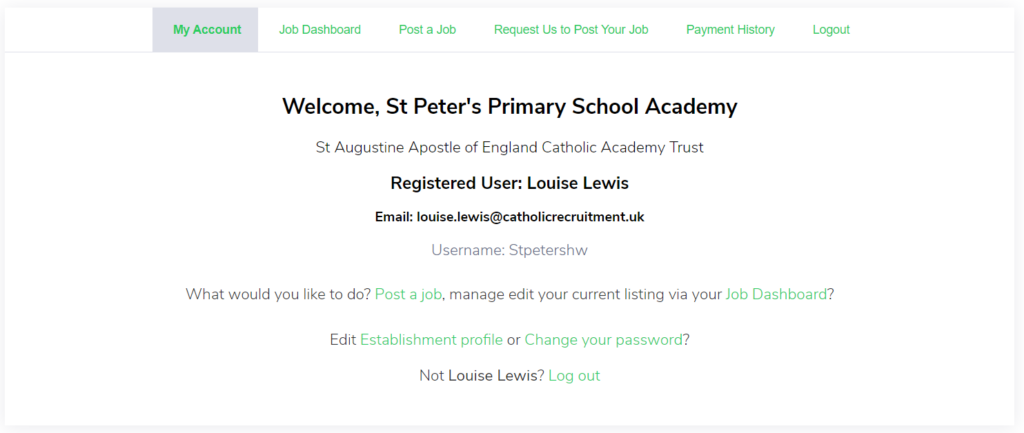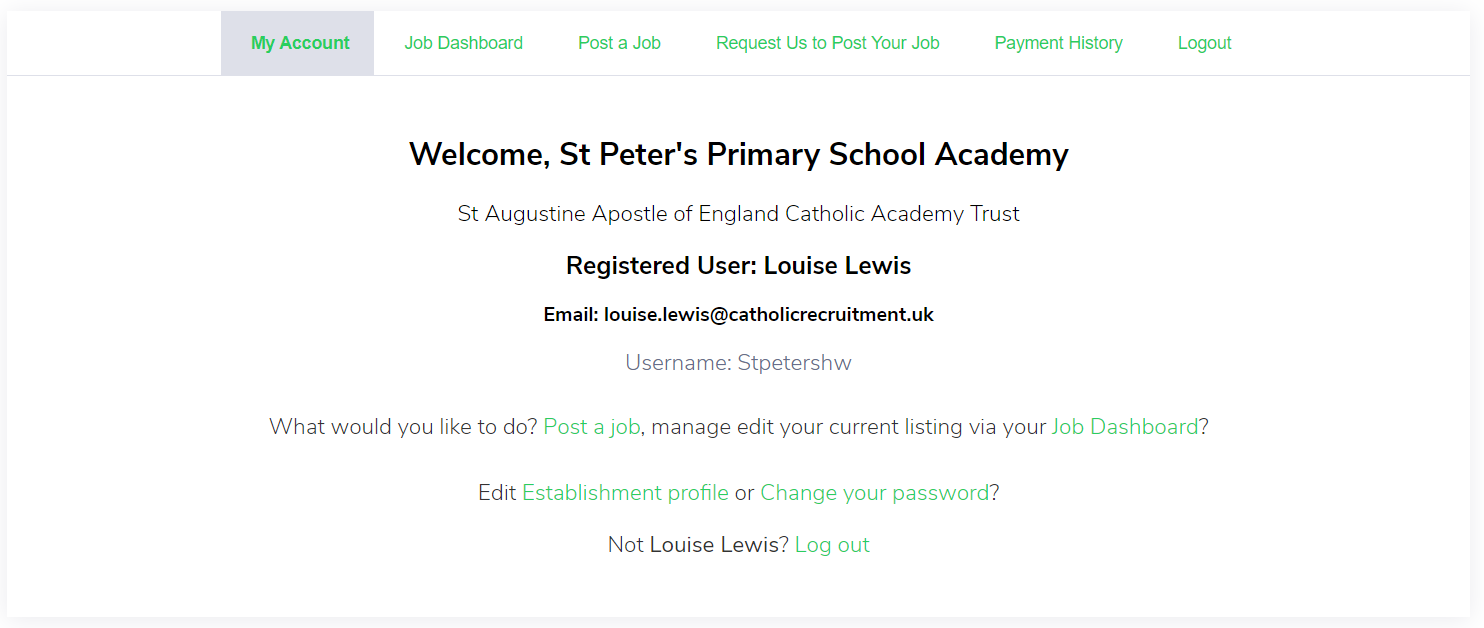 Job Listing – Job description – text box
We have introduced a new editor which allows you to change the colour of the text, change font, change font size.
The icons are similar to most Word processor programs like Word etc..
You can view our support videos for all the latest features by visiting our support pages. (My Account -> Support).
Job Listing – Preview Page
We have removed the Listing logo from overlaying in your job listing in preview mode in some browsers.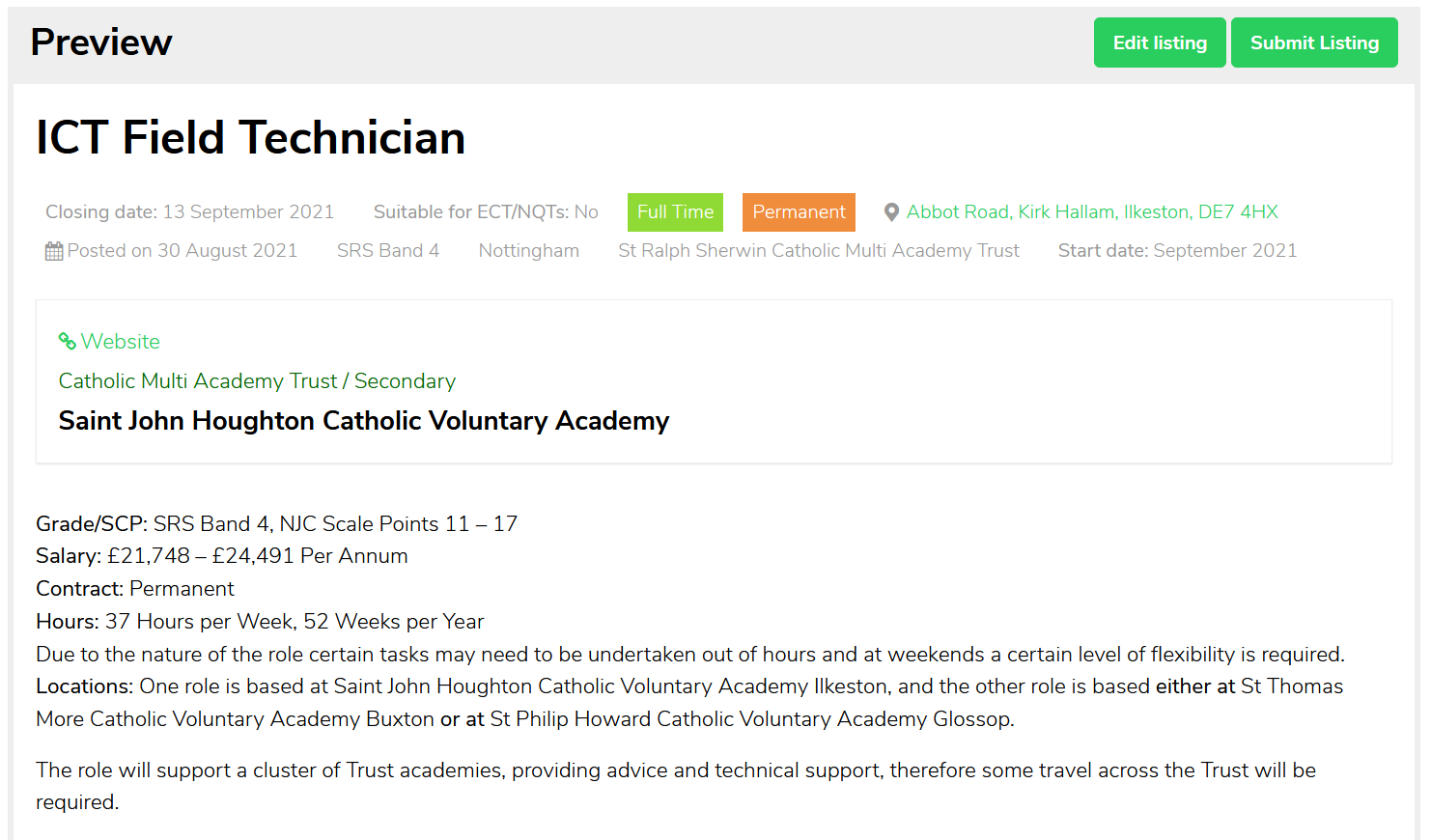 If you have any questions regarding the updates and improvments please do contact us. As always we welcome your feedback.
Job seekers updates
Job seekers, when viewing a job listing will now be able to see what type of school they are viewing as can be seen in the image below.
The other change job seekers will notice is at the end of the job listing they will now have the option of going back to the job search page.
The search function has been improved to allow you to search for jobs via the Keyword box on the job search page, if you wish to view all jobs in the Diocese of Leeds just type "Leeds" in to the keyword search box.  The keyword box is now the superior search box for most searches.
All here at Catholic Recruitment would like to thank you for your support.  We will continue to keep you in our prayers.
God Bless,
The Catholic Recruitment Team
7th September 2021